Your roof is your home's most important asset. But it takes more than shingles to protect your home and family. Whirlwind Roofing & Construction is Tulsa's roofing experts and we want you to be safe.
Tulsa Roof Replacements
A roof is so much more than shingles. It is layers of protection, working together to help keep your home safe from wind, rain, snow, and even sun. We offer a host of options including impact-resistant shingles, eco-friendly shingles, designer shingles, and budget friendly solutions.

Roofing Systems includes:
Ridge Cap Shingles
Shingles
Starter Shingles
Underlayment
Ice & Water Shield
Drip Edge
Decking
Other things to consider:
Attic Ventilation
Ask us about solar powered attic vents. They are whisper quiet, highly efficient, and don't require electricity. They will keep your attic cool and have a lifetime warranty.
Impact-resistant Shingles
Sometimes referred to as "IR" roofing shingles or Class 3 or Class 4 shingles, are designed to help minimize roof damage during a severe weather event and can potentially extend the life of your roof. Adding an impact resistance roof can also lower your homeowners insurance premium. Check with your insurance agent for discounts.
Eco-friendly Roofing
We offer energy efficient roofing solutions that are environmentally friendly and affordable, including shingles made of rubberized asphalt for superior all-weather resilience, upcycled rubber and plastics to reduce landfill waste, and smog-reducing granules that help clean the air.
Handcrafted Copper
Add some bling to your roof with custom handcrafted copper accents such as cupolas, finials, chimney pots, vents, and guttering to make your home the envy of your neighborhood.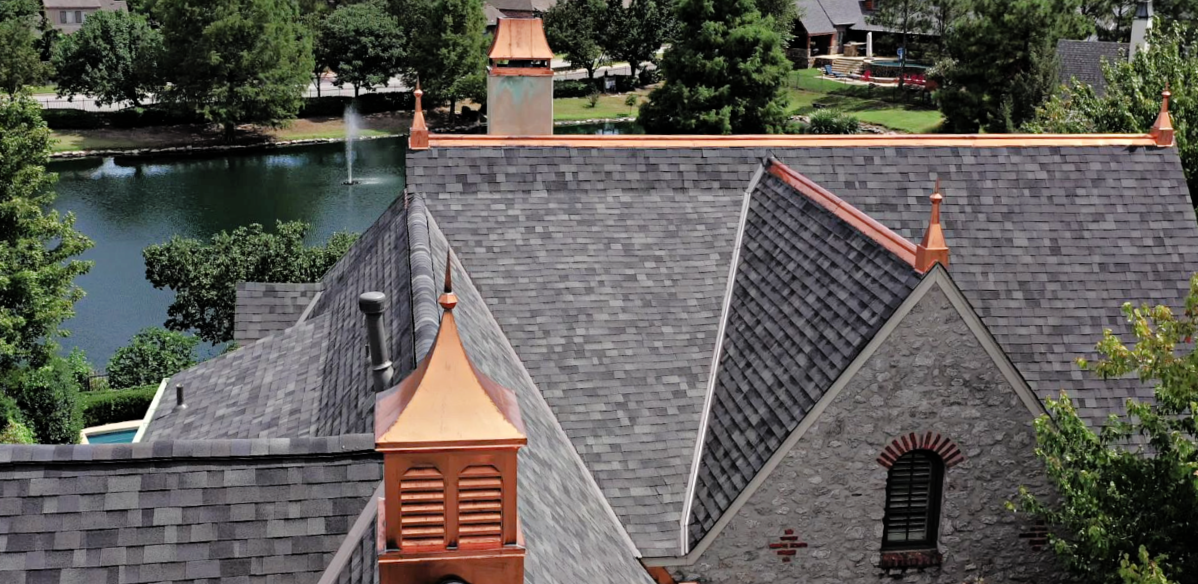 How long will it take to install a new roof?
Roofing takes a day or two to remove the existing roof and put on a new one. If you have interior damage, we do those repairs after the roof is completed and may take a few days. Gutters and copper accents such as finials and cupolas are also installed after the roof is completed and takes 2-4 hours.
What are the different types of roofing materials available, and which one is best for my home? 
There are many kinds of roofing materials. Options include, 3-tab asphalt shingles, architectural asphalt shingles, impact resistant SBS modified asphalt shingles (class 3 & class 4), stone coated steel shingles, TPO modified shingles (Davinci or F Wave), metal panels, standing seam metal panels, solar shingles, tile (clay or concrete), slate, rubber slate, eco-friendly living roofs, wood shake, built-up roofing (flat roofs), modified bitumen (flat roofs), rolled roofing (flat applications), and more.
The best roofing material for your home will depend on your climate and the pitch of your roof. In most applications for NE Oklahoma, an impact resistant shingle is best due to our strong springtime thunderstorms that bring hail and high winds. 
Can you provide a quote for the cost of a new roof?
Absolutely, we will be happy to provide a free quote for your new roof. 
Do you offer any warranties or guarantees for your work?
Whirlwind Roofing provides a free 5-year workmanship warranty on all roof replacements. Shingle and other material manufacturers offer their own warranty, typically starting at 25 years for defects. Whirlwind Roofing also offers extended and transferable shingle warranties through Malarkey and GAF shingle manufacturers to last a lifetime.
Will I get a discount on my homeowners insurance?
Most insurance companies offer a discount when you get a new roof. But upgrading to a high impact shingle can save up to 25% to 40% on your insurance premiums and it doesn't cost that much more. Contact your insurance agent for details.
Do you offer payment plans?
Absolutely! Financing can be used when your roof needs to be replaced at an unexpected time or your insurance deductible is hard to manage. You can finance your total project amount or just a portion. Our flexible payment plans include 100% Financing, 0% Interest Loans, and Low Payment loans.