Professional Storm Damage Restoration
Dealing with a storm damage restoration claim due to hail damage or wind damage can be overwhelming and stressful. Call us when storms hit for a free storm damage restoration inspection. We'll meet with your insurance adjuster and work with your insurance company's estimate to restore your home to its pre-storm condition.
Insurance Claim Software Experts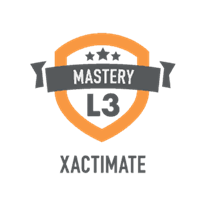 Xactimate is the complicated software used by insurance companies to determine the cost to repair your home after a hailstorm or windstorm. Our owner is Xactimate Version 28 Level 3 Mastery certified, the top level of certification, and knows all the ins-and-outs (and sneaky tricks) the insurance companies use.
Why is this a Big Deal?
It's important because we can go to bat with industry knowledge and the insurance company's own tools to make sure your roof is replaced or repaired the right way, not the cheap way.
Did you know?
Whirlwind Roofing is only one of two contractors in the State of Oklahoma with this high-level Xactimate certification.