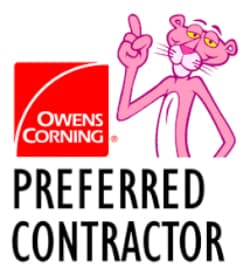 Your roof is your home's most important asset, so we'll treat it like it is our own. But it takes more than shingles to protect your home. It takes an integrated system of components and layers designed to help perform in three critical areas.
SEAL Helps create a water-proof barrier
DEFEND Helps protect against nature's elements
BREATHE For balanced attic ventilation
Whirlwind Roofing and Construction is an Owens Corning Preferred Contractor and has earned the following Owens Corning credentials:
SureNail Technology Trained Contractor: We have completed the Owens Corning® SureNail Technology Training which provides contractors with extensive knowledge enabling them to better complete your roofing project.
Top of the House Certified: We are specially trained on how roofing, ventilation and attic insulation work together to improve your home's energy efficiency and comfort.
TPRS Trained Contractor: We are an Owens Corning® Total Protection Roofing System® trained contractor and recommend using the system on every roof we install.
Click through the infographic below for more information about the Owens Corning® Total Protection Roofing System®.
Whirlwind Roofing
13402 S Memorial Dr
Bixby, OK 74008